Australian Champion Kortmar Three Days Grace (IID) (A)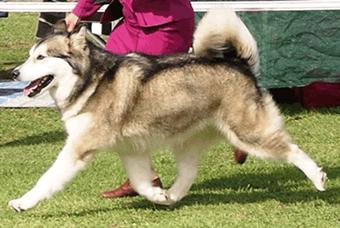 Grace was imported in dam (Kiara) and bred by Lyne Leeson.  We purchased Grace as a puppy to keep Taran company after losing our first Malamute Anouk.  From day one, Grace was to be a house dog.  Grace loves spending her days on her back on Nicole's bed.  Mornings are for taking the cats for a walk around the property.  Grace has taken time off of showing due to pursued motherhood.  She has produced a beautiful litter of six puppies and she absolutely adores them.  She loves to play with them of a morning and goes up to the barn to tuck them in at night.  She now helps look after her Grandchildren.
Australian Champion Niltaran Ernace Tungulra WPD WPDX ROA
Felix is a character.  He is not the bravest of Malamutes but is an absolute joy to own.  He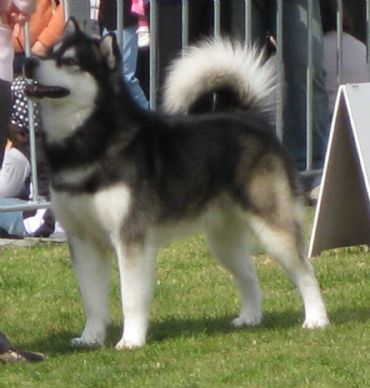 has no interest in trying to become Alpha dog with the other males at home.  Off to a slow start in his show career, Felix is now a consistent winner.  In 2012 he achieved his Australian Championship & WPDX (Working Pack Dog Excellent) which both gave him his ROA (Register of Achievement).  He has also been working hard with his sister Zelby to gain a sledding title.
AMCV Specialty Show 2012 – Best Australian Bred In Show.
Australian Champion Niltaran Ernace Sakari (A)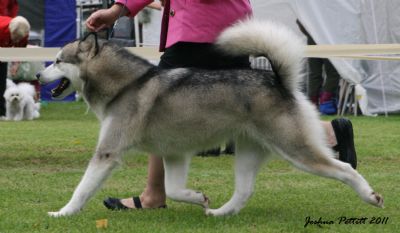 Thomas has been handling Kari since she was 12 weeks old, and on the 11th July 2010 showed her to her Australian Championship.
Kari is a Multi BOB, RUBOB, Class in Group and Sweepstakes winner. Multi class winner for Alaskan Malamute Club of Vic Pointscore.
At the Alaskan Malamute Club Of NSW 2009 Championship Show Thomas handled Kari to Best Opposite Junior In Show.
Kari also has the following outstanding achievements
AMCV Point Score – Best Baby Puppy Bitch 2008
AMCV Point Score – Best Junior Bitch 2009
Now after having a family Kari has been doing some real work, she has just recently completed her first two 16km backpacking hikes towards her WPD title.  Due to an injury to her hind leg she could not complete her WPD title.
Australian Champion Niltaran Ernace Buniq (A)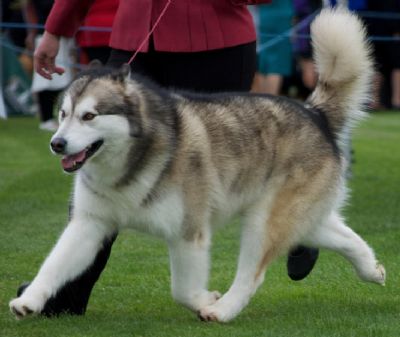 Bunny does not really like the show ring – she has excellent qualities but fails to put herself on show.
Some of her achievements are
Best Baby Puppy in Show AMCV Open Show 2008
AMCV Point Score 2008 – Best Puppy Bitch
Runner Up Best in Show AMCV Open Show 2009
AMCV Point Score 2010 – Best Aust Bred Bitch
Best Head Bitch in Show AMCV Open Show 2011
AMCV Point Score 2011 – Top Alaskan Malamute Bitch
AMCV Point Score 2011 – Best Open Bitch
Niltaran Ernace Kirabo WPD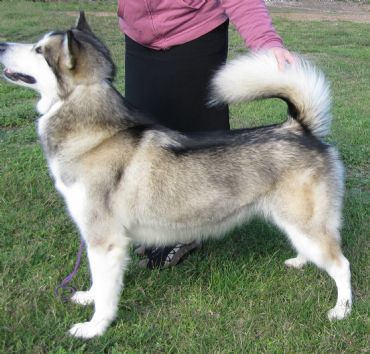 Keira was kept as company for her brother Felix.  Not intending to show her she started to do some backpacking with Felix and gained her WPD title.  She has one 3 day hike toward her WPDX.  While her sisters were out of coat we entered Keira in some shows and now she is over half way to her Australian Champion title.