Australian Champion Talkeetna Caribou Anouk (A), ROA
Anouk was the foundation bitch for Niltaran Kennels Alaskan Malamutes and taught us a lot about living with Malamutes.  Anouk is a daughter from BISS BIS Aust. Ch. Polstars Akutan Trojan (A).  Being our first Malamute and the first time Nicole had shown a dog, things got off to a slow start.  Anouk started a family with Aust. Ch. Huskypak Aussie Bear before she gained her title of Aust. Ch.  But once she had raised her litter of 12 was back in the ring and in no time gained her title.  She then chaperoned her kids to shows watching there success namely Aust. Ch Niltaran Ausmau Kaisha (A) and Aust. Ch. Niltaran Ausmau Tahra.  Her second litter was with Aust. Ch Paharey Ccooler Atcidaq where she produced a very successful litter, Aust. Ch Niltaran Baskin Ugolyek (A) WPD WPDX, Aust. Ch. Niltaran Baskin Sonya (A), Aust. Ch. Niltaran Baskin Chewbaka (A), and Aust Grand Ch. Niltaran Baskin Neumnik (A) WPD.  Anouk was happy  not to go to shows and sit at home helping around the house and see what the kids brought home.
BISS BIS Australian Champion Polstars Akutan Trojan (A), ROA
We acquired Trojan from Dulcie Sullivan of Polstars Kennels in 1993 and have never regretted one moment with him.  He was a dream to own and show.  He did not have a mean bone in his body.  Within the first few months of showing he was winning challenge dog at Royals and Best in Groups.   Over the years, Trojan won numerous Groups and In Show awards.
In 1995 at 6 1/2 years of age Trojan won Best Exhibit In Show at the Alaskan Malamute Club of Vic Championship Show under well respected Northern breed judge Mr. Vincent Buoniello Jr (USA).
Semi retired Trojan was entered in the 1996 AMCV Championship Show, and to make up numbers for the club to run an obedience trial was entered in the obedience section as well.  To our delight he went on to win Best Exhibit In Show for the second year in a row, and with limited obedience training he came second in the obedience.
Now fully retired and only entered in the 1997  AMCV Championship Show to compete with his son Aust. Ch. Niltaran Akuzah Rakhan (A) in parent/progeny—Trojan does it again and takes out Best Exhibit In Show for the third year running.  He still holds the record to date.
Australian Champion Paharey Sno Atniltaran (A)
Taran was the resident couch potato at Niltaran Kennels, completely spoilt living inside.  He would spend his days with Lorraine never far from her side.  He would play with his bouncy ball every day, which was one he had since puppy hood.  Someone forgot to tell him that Malamutes destroy toys.  He absolutely adored his resident cat friends, starting the trend of taking the cats for a walk around the property.  He lived his last few years entertaining his new friend Grace and training her to continue on the tradition of taking the cats for their walk.
BIG Australian Champion Niltaran Baskin Ugolyek (A) WPD,WPDX, ROA
Charcaol was our spoilt boy who would not travel in a dog float, always in the car.  He was one of four of his litter to achieve his Australian Championship title.  Three of them also achieved their WPD titles.  At the age of 8 yrs, Charcoal completed his WPDX title.  He was always full of energy and ready to walk anywhere.  His  achievements included Multiple Group, In Show and Sweepstake awards.
 1995 Best Minor Puppy Dog – Alaskan Malamute Point Score
 1995/96 Best Intermediate Dog – Alaskan Malamute Point Score
 1996/97 Best Intermediate Dog – Alaskan Malamute Point Score
 1996/97 Top Dog – Alaskan Malamute Point Score
Sydney Royal Show 1994 Puppy of the Day
 Eukanuba Australasian Puppy of the Year– 1995 Breed winner & Group Finalist
 Royal Adelaide Show 1996– Best of Breed and Best Exhibit In Group 6
Characoal was a delight to own with a very strong cheeky individual personality
BISS BIS Australian Champion Niltaran Akuzah Rakhan (A) WPD, ROA
Man or Little Man as he was known, was a real gentleman very much like his sire Trojan.  He was very laid back and nothing really phased him.  He completed his WPD and one leg of his WPDX title.  Little Man is a multi Best In Show winner and Class in Show winner.  He was one of three from his litter to be multi titled with both his sisters Australian Champions and WPDX title holders.
Best Exhibit In Show Bendigo Kennel Club All Breeds 1997
Best Exhibit In Show  Alaskan Malamute Open Show 1998
Runner Up Best Of Breed Melbourne Royal Show 1998
Winner of numerous Parent & Progeny with sire Trojan
Australian Champion Steppenwolf Cool Dochura (A)
Chura was a very effervescent girl  always going about life with a smile on her face.  She had limited time in the show ring but a few of her wins include:
Bitch Challenge NSW Specialty
Australian Bred In Show– Utility Dog   Club Championship Show
Numerous Best of Breeds over the dog                                                Chura was at Niltaran for 3 years before she went back to south Australia for 2 years to pursue some motherly duties, she then came back to Niltaran and with her wonderful temperament (and much to her daughters delight) moved back into the pen with Aust CH Niltaran Coolrup Kuteya.  After an unfortunate accident, Chura had to have a hind leg amputated.  Chura being Chura just got on with life  as though nothing had happened.  You would never know she only had three legs.  This set back did not slow her down, playing non stop with Teya, and of course her smile was always there.
Australian Champion Niltaran Baskin Sonya (A)
Sonya was whelped 16th May 1994 in a litter of eleven.  Sonya gained her title at just under three years of age with class in group wins plus Bitch Challenge at Adelaide Royal Show.  She found it hard to compete against her litter sister Aust Grand Champion Niltaran Baskin Neumnik (A) WPD.  Due to health issues her show career was cut short.  She was the character of the kennels always letting us know whenever the other dogs were up to mischief. In her last years she was housed next to Graces litter keeping them company on stormy nights.
Australian Champion Niltaran Akuzah Sarabii (A) WPD,WPDX, ROA
Sarabii  spent her most of her life with son Simba and was truly a grand lady.  Her temperament was excellent.  She could be trusted with any new puppy that cames to Niltaran and never had a bad word to say to any other dog she came across.  Along with sister Aust CH Niltaran Akuzah Sarafini (A) WPD,WPDX and brother Aust CH Niltaran Akuzah Rakhan (A) WPD she is multi titled having earned her WPDX with walking partner Charcoal.  She was also a Multi Class In Group winner.
Australian Champion Niltaran Coolrup Kuteya (A)

Teya is a real softy.  Vocally expressing herself when she needs attention.  She was an absolute treasure to show– teaching herself to self stack and standing forever.  She has a very pretty head and knows it.  She is very gentle and lived with her dam Aust CH Steppenwolf Cool Dochura (A) up until 2005 and missed her mother dearly when she passed away.
Teya is a multi Class In Group winner and Multi Sweepstake winner.  She has also tried her hand at backpacking.
Australian Champion Skartik Tano Mambo Man (A)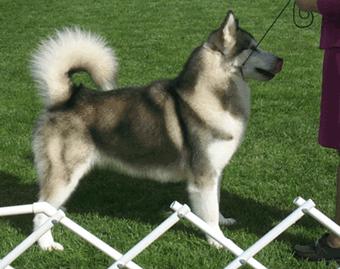 We acquired Mambo when he was about 10mths old from Skartik Kennels in NSW.  At times things in the show ring were a bit slow, but Mambo has been a joy to own.  He has tried backpacking and sledding, enjoying them both.  He is a real smooch and lives in a pen with Kiara.  He is a gentleman with the ladies and does what they tell him.
 Best of Breed Royal Adelaide Show 2004
 Best of Breed Royal Canberra Show 2005
 Runner Up Best of Breed Royal Adelaide Show 2006
 Numerous In Group Awards
Australian Canadian Champion Kipmik's Partner In Crime (Imp Can) (A) WPD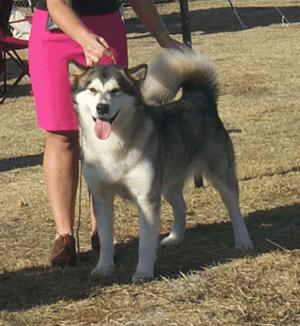 We purchased Kiara in 2004 from Lyne Leeson who imported her from Kipmik Kennels in Canada.  She was imported in whelp to Tyson where she produced a litter of three puppies– one of those puppies is now our new house dog- Grace.  Kiara is a real character, her aim in life is to always please her masters.  She loves her food and currently loves having her grand children around, watching them get up to mischief.
Reserve Challenge Melbourne Royal Show 2005
 Multiple In Group Awards
WPD title 2006
 Numerous class awards at Specialty shows and Royal Shows
1st Veteran Sweepstakes 2011