Australian Champion Skartik Tano Mambo Man (A)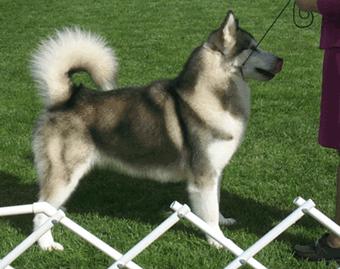 We acquired Mambo when he was about 10mths old from Skartik Kennels in NSW.  At times things in the show ring were a bit slow, but Mambo has been a joy to own.  He has tried backpacking and sledding, enjoying them both.  He is a real smooch and lives in a pen with Kiara.  He is a gentleman with the ladies and does what they tell him.
 Best of Breed Royal Adelaide Show 2004
 Best of Breed Royal Canberra Show 2005
 Runner Up Best of Breed Royal Adelaide Show 2006
 Numerous In Group Awards
Australian Canadian Champion Kipmik's Partner In Crime (Imp Can) (A) WPD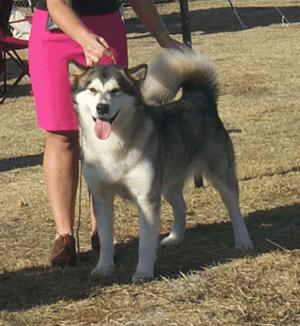 We purchased Kiara in 2004 from Lyne Leeson who imported her from Kipmik Kennels in Canada.  She was imported in whelp to Tyson where she produced a litter of three puppies– one of those puppies is now our new house dog- Grace.  Kiara is a real character, her aim in life is to always please her masters.  She loves her food and currently loves having her grand children around, watching them get up to mischief.
 Reserve Challenge Melbourne Royal Show 2005
 Multiple In Group Awards
 WPD title 2006
 Numerous class awards at Specialty shows and Royal Shows
1st Veteran Sweepstakes 2011
Australian Champion Kortmar Three Days Grace (IID) (A)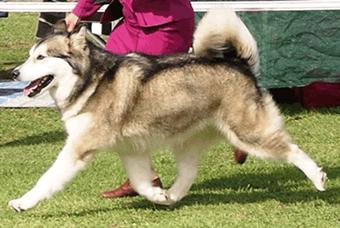 Grace was imported in dam (Kiara) and bred by Lyne Leeson.  We purchased Grace as a puppy to keep Taran company after losing our first Malamute Anouk.  From day one, Grace was to be a house dog.  Grace loves spending her days on her back on Nicole's bed.  Mornings are for taking the cats for a walk around the property.  Grace has taken time off of showing due to pursued motherhood.  She has produced a beautiful litter of six puppies and she absolutely adores them.  She loves to play with them of a morning and goes up to the barn to tuck them in at night.  She now helps look after her Grandchildren.